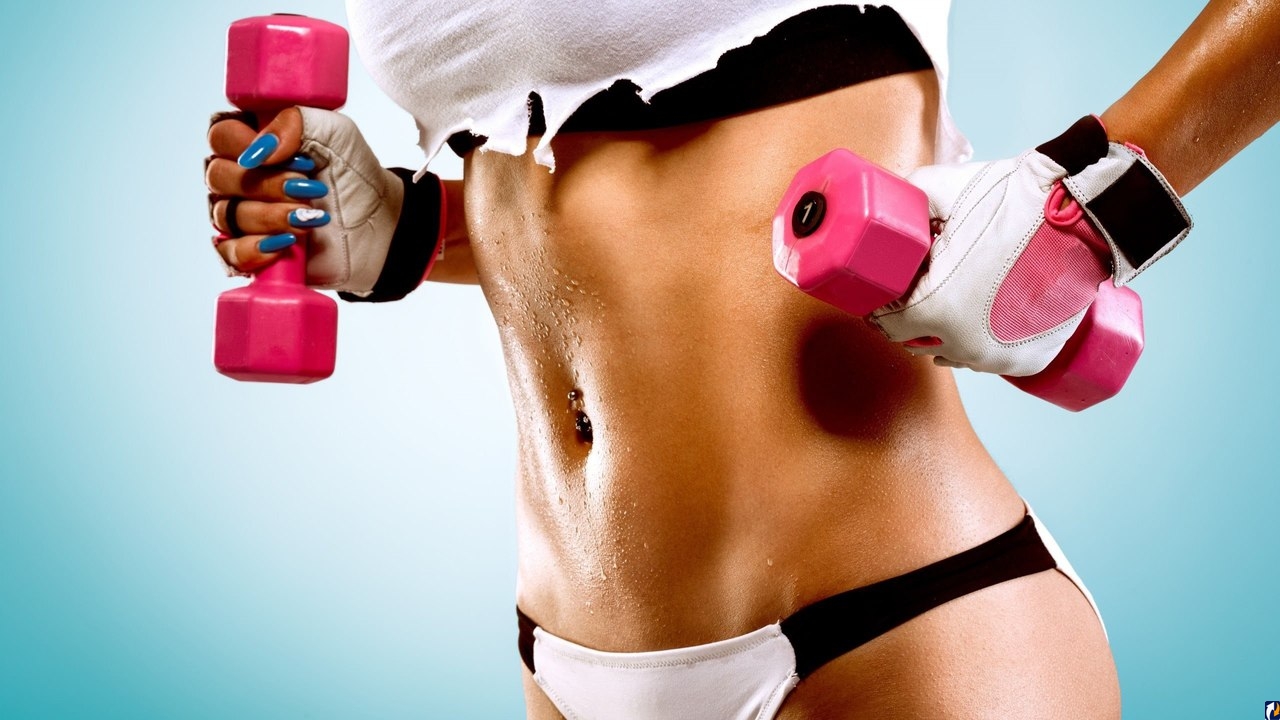 Physical exercises are designed to increase muscle mass of the body or to reduce the amount of subcutaneous fat in the body. A group of exercises that pursue the fat burning are called cardio training. With their help, the human body splits fats and carbohydrates using oxygen. Such loads are called aerobic.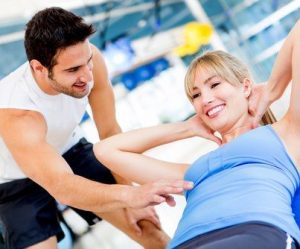 Not all exercises burn fat the same way. Some of them are lighter and simpler, others require more energy. Everything depends on the level of preparedness of a person. Therefore, we have created a list of the best exercises for fat burning, depending on the level of preparedness and the amount of calories squandered.
List of 10 best cardio exercises
Swimming. You need to have average physical training and be able to swim. Due to the fact that during this training all muscle groups participate, it is very valuable, while it brings pleasure. You can swim with friends and, in the meantime, unnoticeably burn calories. After an hour of swimming, 500 kcal is burnt.
Run. The main and most simple exercise for burning fat for people with a minimum level of physical fitness. You can run at different speeds. It will be a very effective training, if you use "explosions" on the intervals. For example, run 2 km jog, then accelerate for the first 100 meters of every kilometer. Scientific studies show that the body at such an effective cardio exercise spends more calories. It is also possible to work in the house – to run in place with a high knee lift. If you run at a speed of 8 km / h, then for 1 hour you can burn 540 kcal. You can use some exercises with medball.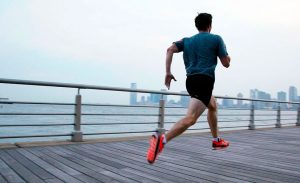 Skipping rope. Training with this shell requires medium skills. If you can not even jump half a minute without getting lost, the exercise will provide inconvenience and spoil your nerves. But, "hard in teaching, it's easy to fight." When you learn to jump with an average tempo – will get great pleasure. With experience, you can learn to jump with double scrolling, alternately on one leg, crosswise, etc. If you develop a speed of 130 jumps per minute, you can burn 660 calories per hour.
Exercises on the floor ladder – fascinating cardio workout for the legs and whole body, which will help burn more calories than the rope. From the inventory you need only a ladder for fitness. In its absence, you can simply draw on the floor. Exercises are different, you can invent it yourself. Jumping can be done on one or two legs. For an hour of work, 700 calories are burnt.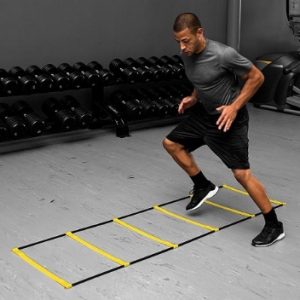 Riding a bicycle or an exercise bike. Exercise will further develop the muscles of your legs. For training, you do not need special skills – only the ability to ride a two-wheeled bike. Put on your shorts to sweat well. They will help burn more fat. This is an exciting cardio training, which does not make you focus only on physical work. You can burn calories and enjoy the world around you. An hour of cycling takes 780 kilocalories.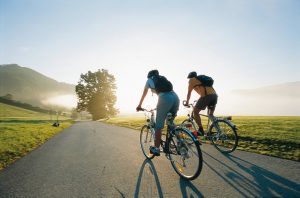 Jumping on the platform does not require much physical training. As a platform, you can use any surface. Zaprygivayte it and immediately jump to the ground. You need to do this as soon as possible. Do rounds for 2-3 minutes, and breaks for 1 minute. The higher the trampoline, the more effective the training. For 30 minutes of work, you can burn 350-350 calories.
Working on a boxing bag is a simple and effective cardio exercise. Working time – 3 minutes, break – 1 minute. Train as many rounds as you can. Special skills are not necessary, only your desire, boxing gloves and a bag. Beat it as often as possible, wear more clothes and do not cool between rounds (just walk around the projectile). You can always beat straight strokes, alternate them with the laterals, use combinations. Such an exercise calms the nerves, helps to fight stress. For 30 minutes of such work, you can burn 400-500 kcal depending on the intensity.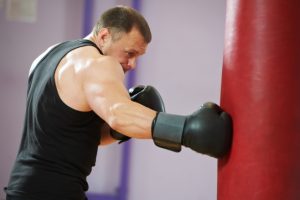 Twisting. The task is to sit at the emphasis while sitting down. The ideal speed is 60 twists in 60 seconds. The hands should not be bent, but the knees must touch the chest. Exercise seems simple, but after 30 seconds comes the understanding that it's hard. You can do approaches for 1 minute, increasing the duration with time. Rest – 1 minute. For 10 minutes 200-250 calories are burnt. Stamina is very strong.

Running in the bar. Stand at point-blank lying on your elbows. You have to try to get your knees alternately to your shoulders. Such training takes a lot of energy and burns the same number of calories. Work for 1 minute, rest for 30 seconds. The number of rounds is determined by yourself. In 10 minutes of such cardio, you can burn 200 calories.
Burpee. Exercise combines a few simpler ones. It's push-ups and jumps up from a deep sed. Many muscles are involved, so it is effective. You need to have good physical training. Priority of actions: become level; sharply sit down; go to the emphasis lying down; answer; jump up, clapping your hands over your head; get back straight. Exercise should be done as quickly as possible. It is not recommended to do the approach for more than one minute. Break between approaches – not less than 30 seconds. At this rate, you can burn 250-300 calories in 10 minutes.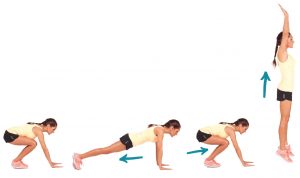 Use different exercises on different days. The body will be worked out comprehensively with the help of various cardio exercises. Choose the best ones, those that you like. Alternate intense and light workouts and be able to quickly burn fat in the body.